CULTURE CLUB and BOY GEORGE
This is my page of Boy George and Culture Club, one of the most popular music groups of the 80's. The year 1983 was the first time that I heard of "Do you really want to hurt me" and "Culture Club", and now after 17 years later, I am still a Boy George fun. He's got a great voice and wonderful songs.
In 1999, Culture Club came back with a brand new album called "Don't Mind If I Do".

Culture Club Albums
Culture Club Singles And Lyrics
Boy George Albums
Boy George Singles And Lyrics
Photo Page 1
Photo Page 2
Photo Page 3
Culture Club And Boy George Photo Album
Back To Home Page
This The Boy George Ring of Luxury site owned by jackalakos.
[ Previous 5 Sites | Previous | Next | Next 5 Sites | Random Site | List Sites ]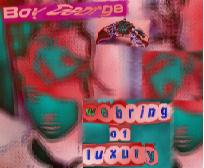 This page has been visited
times.